Spider K1 - K2 Placement


If a Spider Screw is to be inserted in an edentulous area where there is bone availability, references from a panoramic radiograph can be sufficient.

1. In areas close to delicate anatomical structures, such as interadicular spaces, a long cone radiograph is recommended.

2. A surgical splint can be made with orthodontic wire, fixing it to the teeth with acrylic or thermoplastic resin. The orthodontic wire is inserted in the acrylic resin and is appropriately bent so that its tip corresponds to the point of insertion of the Spider Screw.

3. Use a periapical radiograph (by using the long-cone parallel technique) to verify the correct placement of the orthodontic wire.

4. The insertion site can be marked with a pressure point or methylene blue dot on the soft tissue. In mobile mucosa it is recommended to leave the surgical guide in place during the drilling phase and/or the screw insertion.

5. After site disinfection (chlorhexidine) insert the Spider K1 or K2 using the manual pick-up driver 7DSX-1690S and 7DSP-5052S. It is also possible to use the contra-angle pick-up driver 7DPQ-2820 at low speed (25/30 rpm). In order to avoid excessive torque stress during insertion, (which could cause bone compression and consequent recession or cause the screw to break) it is recommended to use a technique of alternating between screwing and unscrewing to gradually ease the screw into position.

Final placement is achieved by using the handle driver 7DSQ-2824 to complete the insertion as this provides the most controlled tactile method.

6. In the case of very compact bone use a spiral drill (7FSC-1108 for K1 or 7FSC-1309 for K2) to make a pilot hole which makes screw insertion easy to perform.

Post Application Patient Instruction
Application of chlorhexidine rinse 2 - 3 times per day for the first 7 days. Perform normal hygiene procedures. The patient should brush the screw normally as a tooth.

Spider Screw Removal
To remove the Spider Screw, it is simply unscrewed with the appropriate screwdriver. For anterior and lateral areas is advisable to use the handle driver. While for posterior areas is advisable to unscrew with contra angle pick-up driver. This can be accomplished with or without anesthesia. If the Spider Screw does not unscrew easily it is recommended to use a technique of alternating between unscrewing and screwing. Healing takes place in a few days.
Spider K2 Ø2mm Regular Plus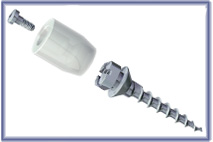 Tapered Thread (self-drilling/self-tapping)

Spider Regular Plus - Allows further possibilities of application related to normal K2 Spider Screw. Besides providing anchorage, it can be inserted vertically in edentulous areas to support an abutment for temporary prosthesis. The acrylic resin abutment is mouldable and it can be fixed to the head of this screw by a micro-screw. It is possible, after sand-blasting, to bond a bracket to the abutment.

No need for further instruments: the head dimension and geometry of this screw are the same as K2 screw.