Temporary Anchorage Device System
The Spider Screw's geometry is a result of careful design in every single detail.
In fact, the Spider Screw has obtained two international patents due to its innovative characteristics: the simultaneous presence of the external and internal rectangular slots and round internal slots.
The Spider Screw has been developed to offer a number of versatile anchorage options capable of immediate loading. Immediate loading is possible because the Spider Screw is a non-osteointegrable implant, and consequently force can be applied immediately after placement. The applied force can range from 50 to 300 grams, depending on screw choice, bone quality, and the desired orthodontic movement.
The Spider Screw's design is extremely versatile, due to its small dimensions and unique design. It is easily placed in either the maxilla or mandible, even where access is limited and bone quality less than ideal. Placement is simplified by the self-drilling feature found in the K1 and K2 Spider Screw systems.
The Spider Screw is an anchorage device that can be used during every phase of orthodontic treatment, and is suitable for symmetric and asymmetric anchorage. The Spider Screw assists in the success of orthodontic treatment, both in adults and adolescents, by reducing treatment times without patient compliance.
The Spider Screw is supplied clean and sterile inside a sealed polypropylene bottle. Included in the pack are three removable stickers containing important information (device name, reference code, lot number etc.) which can be applied to the patient's card for traceability.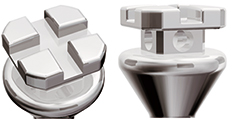 Orthodontic Head
The orthodontic head was designed to facilitate appliance (wires, springs etc) placement. There is a bracket-like head, featuring two intersecting .022'' slots. The under tie-wing area can also function as another .022'' x .025'' slot, and features two intersecting slots of .027'' in diameter, with chamfered inlets to simplify insertion of wires or ligatures.
Transmucosal Portion
The length of the transmucosal portion is variable and allows for optimal adaptation to different intraoral mucosa thicknesses during bio-maintenance. Short for areas of thin attached gingiva. Long for areas of thick or movable tissues. The transmucosal portion is polished with a special treatment to help avoid soft tissue irritation and make cleaning easier to accomplish.
Infrabony Portion
The Spider Screw's thread shape has an asymmetrical profile, making it easy to place, while ensuring maximum stability and avoiding bone stress. Spider Screw K1 Ø1.5mm, and Spider Screw K2 Ø1.9mm, tapered thread, are self-drilling and self-tapping, which makes pre-drilling before insertion unnecessary. This makes the Spider Screw K1 and Spider Screw K2 easy to place, while reducing the risk of root damage.
Spider Screw C1 Ø1.5mm requires pre-drilling, and is used in areas that have poor bone quality or greater retention requirements.
Indications


Spider Screw Anchorage System (SSAS) allows sagittal and vertical movement of all teeth
(intrusion, extrusion, distalization and mesialization) and can be used for treating the following:


Insertion Sites


MAXILLA
Edentulous ridges
* Class I, Class II, Class III malocclusion treatment
Palate
* Anchorage Recovery
Tuberosity
* Anchorage Reinforcement
Interadicular areas
* Asymmetrical case management
Infrazygomatic crest
* Uprighting of upper and lower molars
MANDIBULAR
* Correction of over erupted teeth (molar, premolar, incisors)
Edentulous ridges
* Deep bite and open bite conditions
Retromolar region
* Preprosthetic Orthodontic Treatment
Mandibular ramus
* Borderline cases
Interadicular areas
* Orthodontic treatment without patient co-operation (MBGM system)
Synfisis

General Information
The placement of Spider Screws is a procedure requiring specific knowledge of anatomy and technique. It is absolutely necessary that it is carried out by specifically trained doctors. It is important to know that improper patient selection and/or incorrect technique can cause placement failure and/or loss of supporting bone.
An effective and complete screening of the patient must be performed and each case carefully evaluated. A very thorough examination is needed, as well as anatomical reference for the evaluation of bone quantity and quality using radiographic research (Long Cone Endoral Radiograph, Orthopantograph, Teleradiography, and Computerised Tomography).
Carefully read the instructions for use inside the package before the Spider Screw placement.
The Spider Screw is for single use only and should not be reused. Use only the instruments mentioned in this catalogue, making sure that all the instruments are sterilized and efficient. It is suggested to disinfect the insertion area and give local anaesthesia as needed.
It is very important that the clinician attends a training course for a complete overview of all the possible applications, as this catalogue shows only a few.